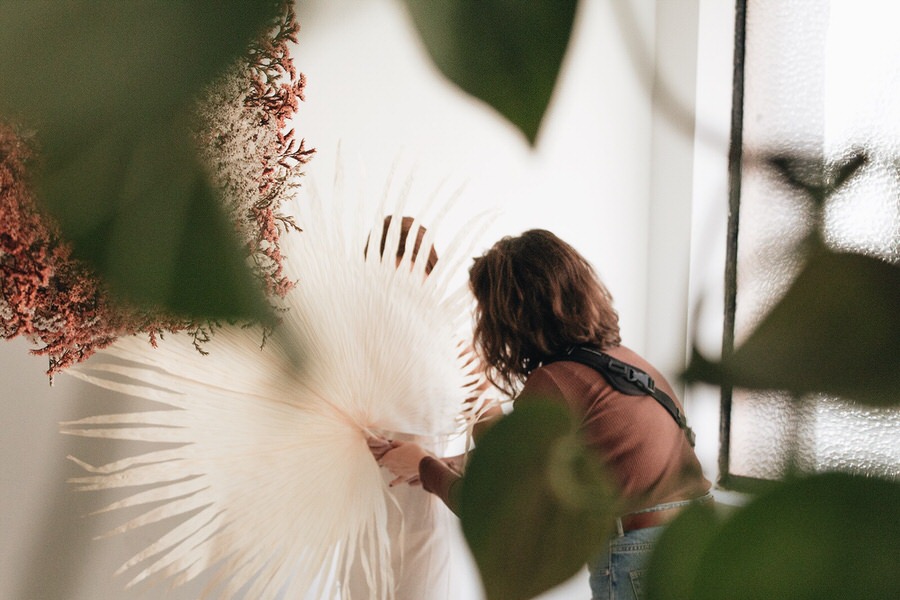 You want to have images that convey your style and the essence of your brand, but you aren't very clear yet on how to prepare for a branding shoot that will do just that for your website and social media presence.
And it is not enough to create beautiful photos. In addition, they have to connect, excite and make you desirable.
If you want to build a visual image that communicates who you are and makes your ideal client fall in love, then this is your place. I will guide you step by step ON how you can prepare for that photoshoot your business needs and you have been dreaming of.
Why do you need professional photos?
People who enter your website for the first time do not know who you are. The first impression they will have of you and your brand will be based on the image you convey there.
I will show you with an example:
Look at the following image and oat attention to the feelings it evokes.
Brand photography for NiceFlowers website
This is the Nice Flowers website, a project in which branding, art direction and photography came together to shape a universe where the beauty in the everyday and the importance off starting with quality materials play the role of the protagonist to create an essence of luxury.
I will show you a little behind the scenes on how our photoshoots come together, to inspire and help you shape your own session for your website or social media.
Because you know what? I also believe that when you know how to identify those, you manage to connect with your customers and that's where the magic happens
Would you like to achieve that effect with your brand? I propose then that you start by putting yourself in the shoes of the great conductor of any photo shoot: the art director.
The value of art direction to make the photo shoot a success
The art director is responsible for ensuring that all the pieces fit together perfectly: the wardrobe, the setting, the props, your style, the composition of the photographs and the messages that each one transmits.
If you are looking to build an identity that works for your business, then I encourage you to start preparing your website photoshoot as an art director would:
Make a list of the images you want.
Write down the accessories, props, and objects that you will need for each of them.
Think about the concept and style of your session. What do you want your photos to show?
Keep in mind the colors of your brand when choosing the space, the background, your wardrobe, and accessories.
Voila! You have now discovered the importance of knowing a bit about the work of art directing and how it can drastically change the results of your session.
And this is just the beginning! Now you will need to dive into preparing a guide for your inspiration, a true key design element that will shape your photoshoot: a mood board.
What is a mood board and what is it for?
At first glance, a moodboard can look like a set of pretty images and materials that explain a concept or idea.
But it is much more than that: it is the key for your identity to be consistent in all the media where you are present.
Because you don't create a brand just to make it look pretty, rather, you build an identity that works for your business.
Do you want an example? I present you two Moodboards created for Nice Flowers. Two inspiration boards which I used to prepare this brand photo shoot and the visual identity of their website.
Brand moodboard for Nice Flowers by The Visual Corner
The client wanted to convey closeness, the beauty of details, simplicity, a Mediterranean air, the art of working slowly, and empathy.
The objective? Achieve a polished image, without unnecessary accessories, where the beauty of the flower was the protagonist and the artisan work with the hands, the medium.
These are the concepts and ideas that are reflected in the mood board, and they were the starting point for the creating of this brand's images.
Why do you want to have your own mood board? Because it will help you to be inspired and will help you to keep in mind what you want to convey when organizing the session for your website. 
How to create a mood board for your photoshoot
Start by defining your message: what do you want to convey? Think of feelings, emotions, and concepts.
Once you have your ideas clear, then yes, sit down and create your inspiration board.
Have your color palette handy.
Look for photos that have your brand colors.
Choose the images that you identify with your brand and that help you convey your message.
Use inspiring tools like Pinterest to organize your ideas.
Position the images as they best help you communicate what you want.
Once you have the mood board done, remember that you will have to share it with your photographer before the photo shoot. For him/her it will also be a working guide that will help him/her to give you the result you are looking for.
How do you know what photos you need? Here is my list.
With the mood board done, it's time to focus on the most practical aspects of preparing the photo session for your website. You have to define what images you should create for your branding in general.
Here I share with you my list, to help you select the ones you you may need even if you don't end up using them all, it is always better to have options to play with.
What photos do you need in digital format?
Your website: images that cover all the contents of the main page, and of the sections about me, services, and contact.
Your blog: the headboard and the sidebar or author's photo.
Product shoots.
Newsletter: the image of the headboard.
Marketing campaigns: photos showing the product or service to be promoted.
Social networks: a profile photo, and another lifestyle, flat lay, or editorial style for the header.
Email signature: if you want, you can put a photo of yourself too.
What photos do you need in printed format?
Photos for product packaging.
Cover photos for books or printed info products.
Photography for catalogs, flyers, brochures, or postcards.
Profile photos for conferences.
And an important detail: keep in mind that you must have them in high resolution to print (at 300dpi).
How to choose the perfect props for your shoot
Finally! You have chosen your photographer and you have the day for the photoshoot.
Perhaps, then, the question begins to surround you: what should I wear? How do I choose the perfect props?
My first advice is: when taking photos, less is more. But, for the day of the session, bring all the material that you think you may need.
Print your mood board in full color and go shopping with it in hand. Or you can also borrow what you need. In any case, think about the concept and idea to communicate.
Book an appointment with your trusted hair and makeup artist. Share with them the color palette of your brand and what you want to convey. Do you rarely ever wear makeup? Make sure to let them know. Your artist will adapt your makeup to feel natural to you, and convey your personality.
Lara López for Nice Flowers by The Visual Corner
Make sure your clothes are ironed before bringing them to the session but also make sure the location or someone also brings items that keep your clothes in optimal condition, such as a hanging rack, hangers and a small hand held steamer for last minute details.
Be careful with textures and prints, those can create a splotchy or speckled effect in your images. Avoid clothing with stripes that are too close together and fabrics with a thick clean yarn.
And remember: your hands are one of the main props. Make sure to have them manicured prior to, and always have moisturizer in your bag just in case.
Details that make the difference
We have talked about makeup, props and wardrobe. But there is another detail that will make all the difference: the location and its characteristics.
You can choose a studio, the outdoors, a public place, or you can rent a space appropriate to the look you are going for. If in addition the chosen place shares the colors of your visual identity, the effect on your photos and ultimately on your brand perception will be much more effective.
In addition, when organizing your session, take into account aspects such as the weather and the type of light that will be available during throughout the day.
In the case of Nice Flowers, we produced two photoshoots for the launch of her new website. One of them was in our studio, where we focused on showing her portfolio and creating images for her social networks. The second took place in a larger studio space in Barcelona. That is where we created the official images for her brand and online presence.
How to have a good time during your shooting 
Dare to be authentic. That is what will help you the most to enjoy your session. Having a good attitude, being relaxed and having a good team will do wonders for your image.
Stay calm, and keep in mind that the best antidote to nerves is to prepare in advance. Something that you have already done.
Apart from that, I leave you with some personal advice.
First, try to get a good night's sleep the night before.
Bring your favourite music, pack some herbal teas or coffee, or basically anything to help calm your nerve if the camera scares you.
You can also be accompanied by someone you trust who will make you laugh and relax.
And, the main thing: trust the professionals who are helping you.
I hope my tips are useful and help you prepare a photoshoot for your new brand that will give you the results you've been dreaming of.
Do you need help to create an image that excites your customers?
I would be happy to chat and tell you more about my art direction work.  I'm sure we can accomplish great things together!
Complete team of the Nice Flowers project: photography by Lara López  and Claudia López  (Seguclau), make up & hair by Marta Aragones, models: Ana Custey and Berta Vallverdú, dress from l'Arca Barcelona, ​​accessories from Klimbin and material rental from Abanik Rent & Events.